Olivia Wilde is on a mission to spread the word about natural skin care products and the benefits of recycling. The 35-year-old mother of 2 is extremely fastidious about what she puts on her skin, opting for pure and natural as much as possible. It's a trait that apparently runs in her family because her mother had a similar philosophy.
That being the case, the Olivia Wilde skin care routine consists of a natural face wash first thing to help prevent acne breakouts. She follows up with a face oil that she uses like a massage oil. The oil serves as an excellent moisturizer as well; in fact Olivia maintains it's the only moisturizer she uses now because it truly is that good. Her night-time ritual is similar – first the face wash followed by the face oil then an application of an antioxidant booster. She also uses a vitamin C booster several times a week.
Olivia describes her beauty routine as 'low-key but thoughtful.' She certainly isn't obsessed about her looks but she is keen to ensure her skin holds out for the next half century at least. That's a large part of the reason she's opted to go natural with all her skin care products and is currently the ambassador for one of the more reputable natural skin care companies. She came across the company when researching options for potentially creating her own skin care line.
Olivia Wilde Skin Care – Natural Is The Word Here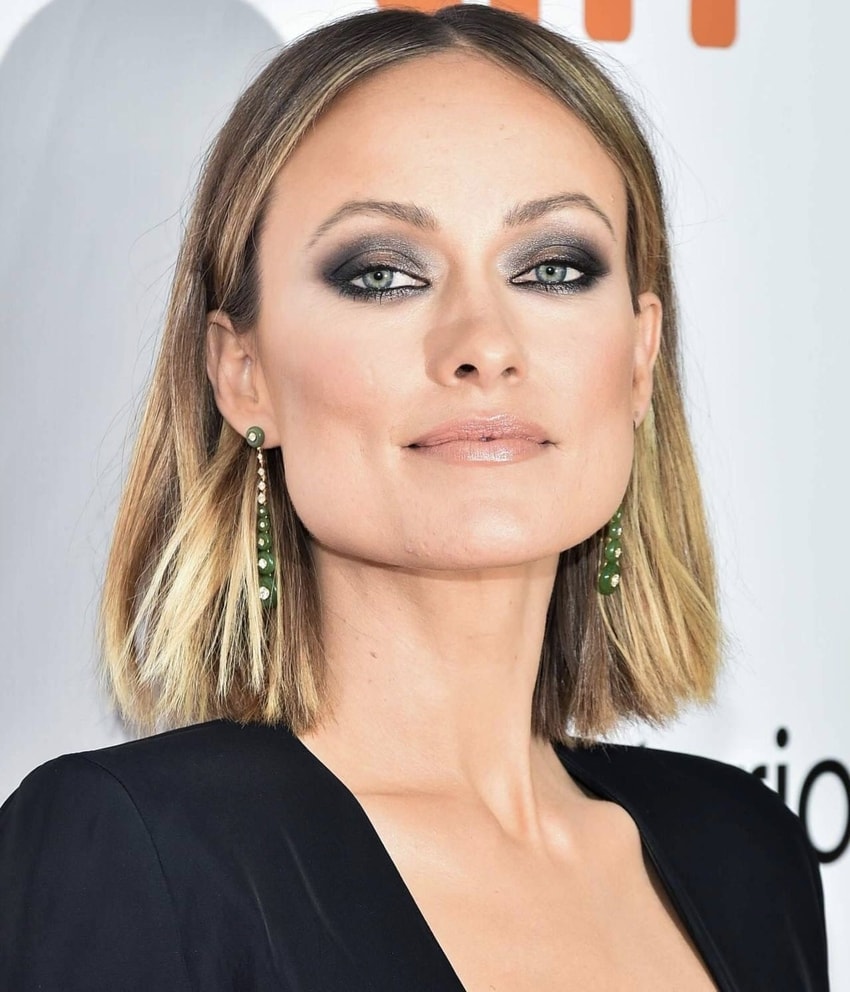 When it comes to make up, Olivia says she finds it can be very mood transforming. Understated and 'girl next door' for a day out with her family, glamorous and trendy for a red carpet function. A good mascara, eyeliner, and lipstick are her go-to essentials along with a stretch concealer. A luminizer and a touch of blush can be added as required.
One of her secrets to achieving a fuller lip look is using a toothbrush to exfoliate them before applying lipstick. If she needs to look particularly glamorous, she'll add a touch of liquid eyeliner as a final touch up. She also takes great care with her eyebrows as it's taken her 15 years to grow decent ones! Therefore, she's become somewhat of an expert with eyebrow pencils and brow makeup!
With her hair, Olivia says she doesn't do all that much with it in between jobs, preferring instead to give it a bit of a break. She uses a natural shampoo and conditioner made by the company she's ambassador for but apart from that, leaves it alone to 'recover'.
In addition to her passion for clean, organic lifestyle products, Olivia is also a keen advocate of recycling and re-using. Her latest venture involves used clothing; she sees huge potential for this and is keen to keep these types of products out of landfill where they can take years to break down. Then there are the manufacturing considerations – every new garment that's produced invariably leaves a carbon footprint of some sort, particularly those that aren't produced sustainably.
------------- Advertisement -------------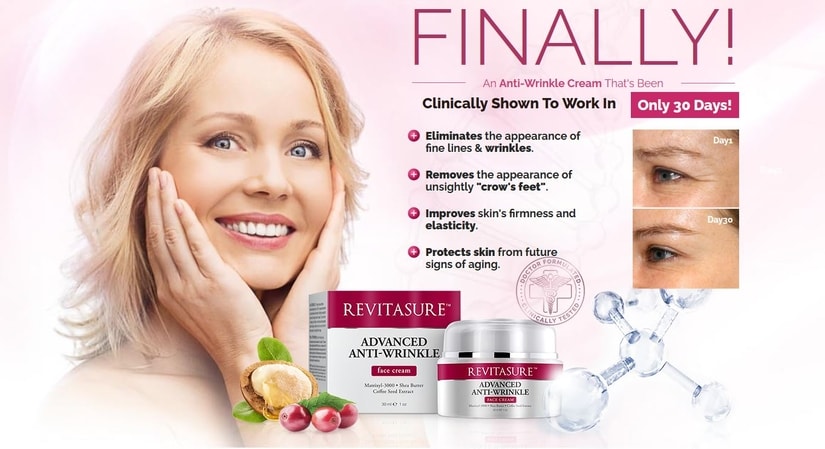 Just Imagine It!
Can you hear the comments? "You look gorgeous and SO much younger. What's your secret?"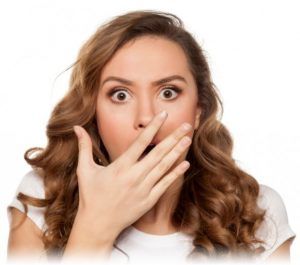 Been getting a bit of a jolt lately when you look in the mirror and notice those wrinkles and fine lines on your face? Yes? Then it's time to take action. Especially if you'd like to see a complexion somewhat resembling your former youthful self looking back at you!
"That's impossible!" you say, thinking regretfully about the years of neglect and haphazard skin care that have visibly taken their toll on your skin. A toll that's going to be well nigh impossible to reverse, much as you wish differently.
But ….
What if we were to tell you that it absolutely is possible to bid farewell to those irritating signs of aging that give away your age? To restore your skin back to its former healthy, smooth, youthful glory and give you back the confidence in your looks that glowing, young-looking skin brings!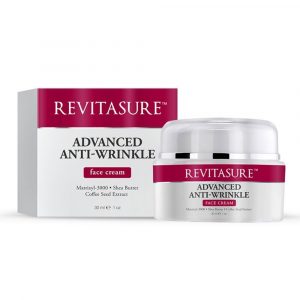 Aging – It's A Fact Of Life
One of the few things in life that we can rely on with absolute certainty is the fact that from the second we're born, we start to age. And as the years roll by the signs of aging pile up.
Wrinkles on Forehead?
Those fine lines around your mouth, nose and forehead, the crows feet that radiate out from the corners of your eyes, the wrinkles that crease your forehead, the sagging skin on your neck…. All those are devastatingly telltale signs that your skin has started to lose the suppleness and elasticity of youth.
Reclaim Your Flawless Skin! Experience the #1 Anti-Aging Cream on the Market!
The Last Skin-Care Cream You'll Ever Need!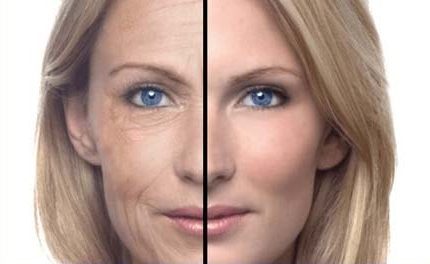 This high-performance anti-aging solution is a blend of nature's most powerful age-defying ingredients. If you're tired of waking up to find new wrinkles and fine-lines appearing, look no further than ReVitaSure's #1-selling
anti-aging product
. In just a few short weeks, you can completely transform your complexion! You don't have to worry about thinning skin, blemishes, crow's feet, or laugh lines any more! With ReVitaSure™, you'll have confidence knowing you're going out into the world looking your best!
Completely Revitalize Your Skin & Reduce Signs of Aging
Dramatically Reduces Appearance of Wrinkles and Fine Lines
Stimulates Production of Healthy New Skin Cells
Promotes Increased Moisture and Fullness
No More Laugh Lines, No More Crow's Feet
Reduce Blemishes and Smooth Skin Tone
How does ReVitaSure™ work so well? We use the best ingredients nature has to offer. Nothing makes it into our formula without being a proven age-defying warrior.
COFFEE SEED EXTRACT Scientists have shown that topical application of the highly active coffee compounds supports the natural capacity of the dermis (skin) to replenish collagen and elasticity.
MATRIXYL In 2013, Researchers found that Matrixyl can nearly DOUBLE the amount of protein collagen needed to give skin the proper elasticity.
SHEA BUTTER Loaded with antioxidants and phytosterols, Shea Butter can help reduce wrinkles and act as UV protection to help ward off damage from sun exposure.

The Choice is Clear
We know how hard it can be to find the right product for you and your skin type. That's why we wanted to make sure each purchase is completely risk-free for our users. If you're not completely satisfied with how ReVitaSure™ makes you look and feel, you can simply return the Jar for a full refund - no questions asked.
But we think you'll love how ReVitaSure™ works. With a unique blend of natural, pure extracts, oils, roots, and herbs, you're getting one of the most advanced anti-aging solutions on the market. Order your supply today and start experiencing incredible skin transformation!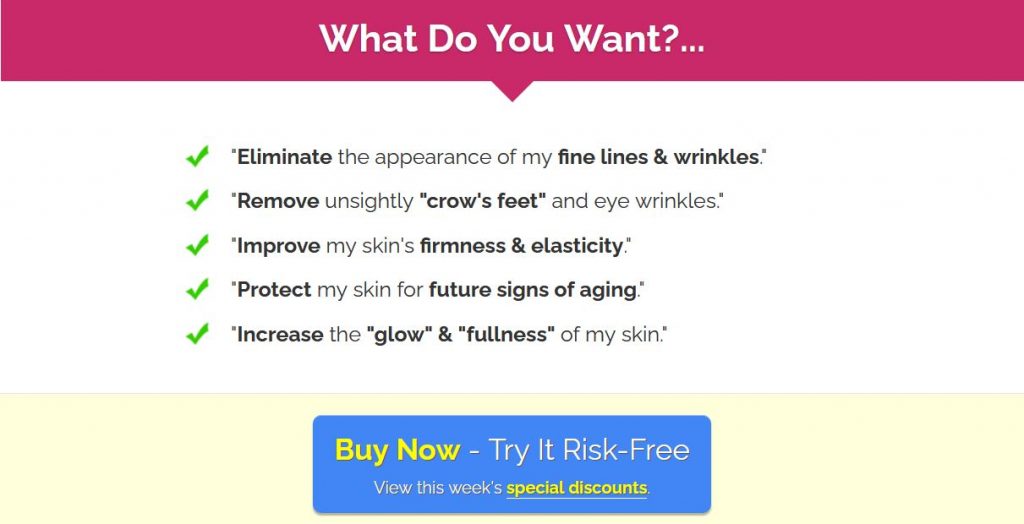 Skin Care Reference Links (Government, Universities & More)
Cosmetics Labeling Regulations
This section provides resources on regulatory requirements for cosmetic labeling. For a thorough explanation of cosmetic labeling regulations, see FDA's Cosmetic Labeling Guide and the cosmetic labeling regulations themselves (21 CFR parts 701 and 740). Firms also may wish to discuss their labeling needs with a consultant.