Wrinkles around the eyes are the first sign for many of us that we are getting older – and not in a good way.
You may spend a fortune on the most expensive anti aging skin care but unless you give the delicate skin under your eyes some love and attention it will all go to waste.
The under eye area needs much more careful treatment than any other part of your face since it is so vulnerable to pulling and stretching. Unfortunately it's probably the part of your face that gets the harshest treatment.
Foundation, under eye concealer, eye shadow, mascara, eye liner, eyebrow pencil – you probably put at least some of this lot near your eyes every day.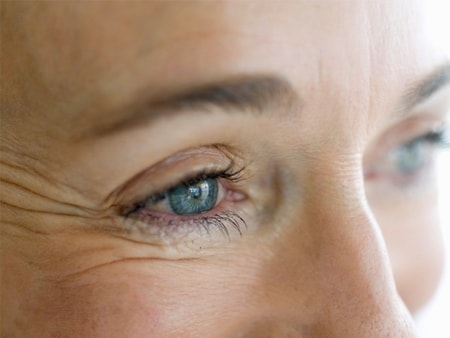 Slapping on the eye make up can do a great deal of damage but even worse harm is done by most of us when we are careless about taking make up off at night.
Last night's make up and late nights can show up in puffy eyes which can lead directly to wrinkling and sagging. Swelling under the eyes stretches the skin – if this is repeated over and over the stretched skin loses its elasticity and wrinkles form.
If you really want to prevent crows feet and baggy eyes then you must take time and follow an extra gentle skin care regime like Sydeny Sweeney does.
Whether you have the first signs of aging or your under eye wrinkles are a whole lot worse than that – proper care and attention will do wonders for the way you look – and all without painful cosmetic surgery or invasive facial treatments.
So – here's our 10 step Prevent Eye Wrinkles program to keep you free of laughter lines and baggy eyes for as long as possible:
Keep Q-tips on the dressing table. Who hasn't rubbed away at a bit of shadow or mascara that smudges under your eyes? Of course that's just about the worst thing you can do to your skin. Be prepared and have handy a small bottle of eye makeup remover and some Q-tips. Moisten a Q-tip with eye make up remover and use to remove mascara or eye shadow smudges without pulling or rubbing skin.
Avoid waterproof mascara – time was when waterproof mascara was so un-waterproof it was just as easy to remove as the normal stuff. Nowadays manufacturers make waterproof mascara to stay on in the water at the beach or pool. That's great news if you're a synchronized swimmer wanting to keep your eye makeup perfect – not so good when you try to get it off at night. You are much more likely to pull and damage delicate skin trying to remove waterproof mascara so be kind to your eyes and risk your mascara running.
Buy a gentle but effective eye make up remover  The problem here is that you don't want an over oily formulation yet you need a touch of oil to dissolve the gunk. Boots Botanics Soothing Eye Makeup Remover is perfect and not expensive so with three eye make up wearers in the house – we go through bottles of it!
It feels cool and dissolves everything – however thickly applied. Don't be put off by the look of the product in the bottle – the oil layer does separate but all you need to do is give it a good shake. Another trick from my youth is a quality baby oil on a pre-moistened cotton pad to dissolve followed by a non-oily remover to clean up.
Avoid using a facial cleanser for your eyes. Many facial cleansers won't dissolve mascara, will be too heavy and may have ingredients that sting your eyes. Under eye puffiness and inflammation will be the result in the morning.
Use natural cotton wool pads to take off your eye make up – not paper tissues which will scratch the delicate surface of the under eye skin.
Saturate the cotton wool pad with your eye make up remover before applying – dry cotton wool fibers can stick to your eye make up and get in your eyes. Alternatively soak with warm water and then eye makeup remover to give you a wetter application.
Wipe gently downwards to remove eye make up. Repeat the movement until all traces are gone rather than scrubbing away to get rid of it.
Buy the best eye cream you can afford – choose something light and effective which is formulated for delicate eye skin. Try Cellex C Eye Contour Cream or Murad Essential C Eye Cream which are both excellent. Apply eye cream sparingly – too much and you overload the skin causing puffiness which stretches the skin and causes wrinkles.
Apply your cream to the eye socket area only. Don't put cream near the base of the eyelid or under the lash area as it can migrate into your eyes and cause inflammation, skin damage and wrinkles.
Use tapping to reduce puffiness. A good tip for the morning routine – apply your morning eye gel or cream with a light tapping motion follow the orbital bone around the eye area. Use the tips of your fingers until all the cream is absorbed. Tapping helps drain fluid and will gently stimulate the skin getting the cream or gel to penetrate deeper.
Of course – the more make up you put on the bigger the problem you present yourself with at night. Check the Sydney Sweeney Skin Care Tips for more ideas about make-up removal.
Generally my view is that eye make up for older eyes needs to be subtle – a more minimal look is better – even if it takes you as long to apply it. The bonus is you get to bed quicker and there's less chance of doing more damage to the delicate skin around your eyes.